International Livestock Research Institute
The International Livestock Research Institute (ILRI) in Nairobi, Kenya has hosted three high school interns since 1999.
Established in 1994, ILRI has worked on eradicating poverty through the use of livestock, bringing high-quality science and capacity-building to bear on poverty reduction and sustainable development.
ILRI carries out research and development in agriculture, rural livelihoods, livestock, and livestock systems.
Headquartered in Nairobi, Kenya, with a second principal research center in Addis Ababa, Ethiopia, ILRI also has research centers in South and Southeast Asia as well as in China.
Interns at ILRI work alongside world-renowned international researchers and experts - like Dr. Diane Roberston, Dr. Bill Thorpe, Dr. Steven Staal, Dr. Dannie Romnie, Dr. Amos Omore, and Dr. Joseph Methu - in the field villages of the Embu district and Addis Ababa.
The students also had the opportunity to travel around Kenya with their host families and colleagues to see sites such as the Maasi Mara National Reserve, National Museum of Kenya, Solar Ice Rink, Karen Blixen Museum, Kenya National Theatre, The Village Market, Nairobi National Park, and the Bird Islands.
Images licensed by CC-BY-SA and GFDL (courtesy: )
---
Travel Information for Kenya
Suggested Travel Link: https://travel.state.gov/content/travel/en/international-travel/International-Travel-Country-Information-Pages/Kenya.html
Visa required: Tourist Visa Required
Passport: Required
Travelers Heath & Vaccinations: You will need the Yellow Fever Vaccination. Visit the CDC website at https://wwwnc.cdc.gov/travel/destinations/list for more information.
Embassies & Consulates Contact:
U.S. Embassy Nairobi - United Nations Avenue Gigiri, Nairobi, Kenya
Telephone: +(254)(20) 363-6451
Emergencies: +(254)(20)363-6170
Geography: Refer back to "International Internship Sites"
Cellular apps (highly suggested to download prior to departure): US Embassy. Airlines the intern will be traveling through. Whatsapp
---
COMMON QUESTIONS SUMMER INTERNS ASKED EMBRAPA
---
Who will pick me up at the airport?
Upon arrival, you will be received by ILRI's Travel Agency our FCM / Charleston Taxi and one staff from ILRI Capacity Development (CapDev) team to pick you. The Travel Agency will have a placard with your name displayed.
---
What is the weather usually like during the period June through August?
Nairobi, the capital city of Kenya, perhaps exhibits one of the best climates in the country. Unlike most cities, the temperatures in Nairobi are moderate. Better yet, the temperature fluctuates between highs of 84°F in January and lows of 45° in July, presenting a taste of extreme ends.
However, the city of Nairobi has a near perfect weather that can best be described as "mild and temperate." The city enjoys sunshine most of the year except for two or so months (June and July). The rainy seasons are; March, April and May for the long rains and September to early December for the short rains. It is common for seasons to shift their expected occurrence.
During your expected placement dates, , the weather in Nairobi is typically cloudy, partly sunny with rain and wet conditions in some occasions. Temperatures are expected to range from 71.6°F -77°F. We therefore recommend that you bring practical, comfortable clothes. Please check online for weather updates.
---
Describe the range of attire required during the internship:
Casual but decent (smart casual). You are allowed to wear shorts although it is very uncommon during work hours except during sports. In any case, given the weather conditions in June and July, you probably will not be able tow wear shorts.
---
Will there be a need for more formal clothing?
Not necessarily but you can bring one outfit for a possible special occasion.
---
Dorm-Style housing? Home-hosting with a family?
Accommodation has been arranged at the ILRI Hostels. The hostels are located inside the ILRI campus and have lush and pristine gardens surrounded by lovely flowers. They rooms are all fitted with a TV with international & local channels, super comfy sized beds complete with 100% cotton duvet, a direct dial phone, a kitchen as well as wireless high-speed Wi-Fi.
Individual or common bathrooms?
Each hostel room has an individual bathroom with a hot water shower.
Will I need an electrical adapter for my small appliances?
The electrical supply in Kenya is 220-240 volts at 50 cycles, mostly using a 13-amp three pin square (see below).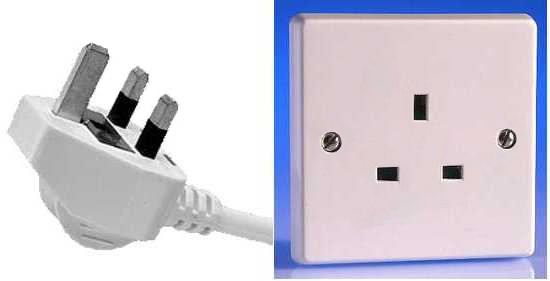 ---
Where are meals taken?
ILRI's Cafeteria is situated close to the Ndama Lounge. Breakfast is available every day from 7:30 a.m. until 10:00 a.m. Lunch is served between 12:30 p.m. and 2:00 p.m. on weekdays.
The Cafeteria is closed on weekends and public holidays but the kitchen provides meals/snacks on request, which are served at the Enkare Bar, terrace or swimming pool area.
Cooking facilities are also available in the hostels.
---
Will there be other high school or college students living and working there this summer?
Yes, there will be other undergraduate and post graduate students within the ILRI campus in different departments.
---
Is it advisable for me to bring a laptop computer with me?
Yes, it is advisable to bring personal laptop.
---
Will I receive an orientation to local customs, where I should and should not go, wise safety practice for the area, etc.? Would such guidance/mentoring throughout the summer come from a person other than my direct project supervisor? If so, who is the person and how do I contact her/him?
Yes, you will get all the necessary information upon arrival at ILRI. This will be handled by the Capacity Development team in liaison with various departments like Security, Health and Safety. The Capacity Development team will lead your orientation program.
---
Is the workweek Monday through Friday? The typical workday consists of how many hours?
Official working days are Monday-Friday for 8 hours a day. (Morning 7:45am -4:30pm with an hour of lunch break.
However, you may be required to work some extra hours and also during the weekends depending on the nature of work.
---
How can I access currency? (Is there a bank near the center?)
ILRI has a bank on campus which can provide currency exchange services. The Kenyan currency is known as Kenya Shillings (KShs). The approximate rate of exchange is: 1 US$ = 101.2 Kshs., though this varies from time to time
---
In case of a medical need or emergency, is there a clinic or medical facility near the place I will be working?
A list of health providers and specialists will be availed to you upon arrival where you can access out-patient and In-patient services
Nairobi is a modern city with good health infrastructure, should you need medical attention. However, anyone requiring ongoing medical supervision or treatment should consult his or her regular physician before travelling.
The health authorities at Jomo Kenyatta International Airport require valid international certificate of vaccination against Yellow Fever. Please ensure you have the vaccination and the yellow fever card before travelling.
---
Is there any additional information you would like for me to have? Are there recommended readings or any topics I should research to better prepare myself for my summer project?
Accompanying this questionnaire, you will find an orientation booklet from the Capacity Development Unit. Please note some of the information contained in the booklet may not be relevant for your internship. All will be clarified once you arrive at ILRI.
To find out more about ILRI visit our website at http://www.ilri.org